VM Plastic Surgery Landmark Hospital
VM Plastic Surgery Center is the first center that provides exclusive facilities for plastic surgery including cosmetic surgery in the City Beautiful, Chandigarh.
Emphasis is given to now popular concept of 'day surgery ' where patients are sent home following surgery on the same day. This not only cuts down the expenditure but also allows the patient to feel comfortable in his own place amongst his family members.
By providing class treatment at very nominal cost to all categories of patients this center is popular both with rich and the poor.
Dr. VD Singh, chief consultant at this center is a senior plastic surgeon who has successfully performed more than8000 surgeries over the span of 30 years.
This center also provides services of a clinical psychologist who if required, helps by counseling and also undertakes psychological evaluation of cases.
Body Sculpt India is a unique clinic in that it caters to the needs of variety of Plastic Surgical patients in various hospitals located in and around Chandigarh. Depending on the requirement of the patients, and their budget, patients can be operated in safe budget hospitals to 5 star hospitals taking care of all their concerns. Our cosmetic surgeons are available to answer you online as well as in reputed hospitals. The hospital OPD timings are 12noon  to 2 pm Tue to Sat and evening OPD is in personal office located in 3010 sector 51 D Chandigarh. Kindly take prior appointment for contacting the doctor.
We specialise in latest third generation FUE hair transplant and have performed surgeries for many celebrities. Apart from this all sorts of facial and body cosmetic surgeries are being performed with specialisation in dimple creation, breast reductions, and non surgical facial rejuvinations with Fillers. Surgical as well as non surgical rhinoplasty is being provided and facilities can be availed in our Day-care tie ups as well as in hospitals. NABH accredited hospitals can be availed too through our services. We also honour insurance based patients. The nursing staff is well trained to take care of all cosmetic surgery patients. We have 24 hours anaesthetist and physician backup available and apart from that all specialists are available for team jobs. Personalised care and service is provided at no extra cost.
Dr. VD Singh, born on 1st September 1954, is the chief consultant at the VM Plastic Surgery Center.
He is a medical graduate from the prestigious Govt. Medical College and VJ hospital, Amritsar, India and did his post graduation (MS) with honours in general surgery from the same institution under the able guidance of an eminent surgeon, Professor BS Tung, former State Director Research & Medical Education.
Dr. VD Singh had his further training in plastic surgery and did superspecialization MCh under Professor RS Thind, former president of the Association of Plastic Surgeons of India and amongst the senior teachers in the country.
Dr. VD Singh has successfully performed more than fifteen thousand operations during his surgical carrier spanning over thirty two years.
Interactions
Dr. VD Singh is a keen learner and keeps updating his knowledge by regularly attending various CMEs and National & International conferences
Dr. VD Singh
Chief Consultant VM Plastic Surgery
The senior most plastic surgeon of the region
Past President of North Zone Association of Plastic Surgeons.
Awarded Visiting Professorship in Cosmetic Plastic Surgery by Association of Plastic Surgeons of India
Invited faculty as Chairperson at International Plastic Surgery meeting in Brazil.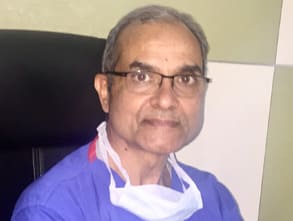 We have more than 38 years of surgical experience. We assure you safety and world class results in Cosmetic and Reconstructive Plastic Surgery at a fraction of cost in comparison to western countries.
Rhinoplasty or Nose Reshaping, Blepharoplasty or correction of baggy eyelids, Face Lift for Facial Rejuvenation, Breast Reductions and enhancement, Male breast treatment by latest mini hole technique, Tummy Tuck or Abdominoplasty with Liposuction are the most frequently done procedures here apart from several non surgical, Laser and injection therapies.