Best Cosmetic Surgeon in Mumbai
Best Three Cosmetic Surgeons in Mumbai
1. Dr. Parag Telang M.B.B.S., M.S. (Gen Surg ), D.N.B (Gen Surg), F.C.P.S (Gen Surg), M.R.C.S (U.K), M.Ch
Dr. Parag Telang is a 40 years old, Mumbai-based cosmetic & plastic surgeon, who specialises in reconstructive plastic surgery and cosmetic surgery in Mumbai. He is the Director and Chief Cosmetic Plastic Surgeon at Designer Bodyz, Centre for Advanced Cosmetic surgery, which is the most preferred Plastic Surgery Clinic in Mumbai.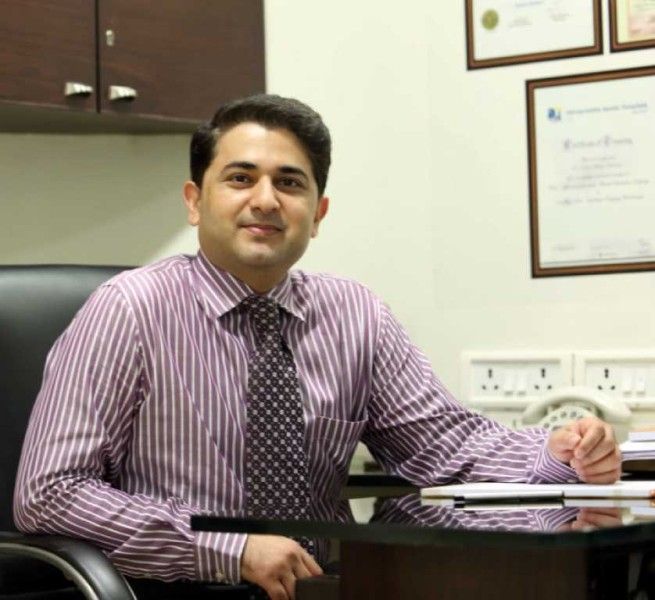 A graduate of Sir J.J Group of Hospitals, Dr. Telang is M.S and M.Ch certified from the well-known Lokmanya Tilak Municipal Medical College and General Hospital (LTMGH). He also has a Gold Medal as Fellow of the College of Physicians and Surgeons (F.C.P.S) Mumbai exams in General Surgery. Besides this, he is a Member of the Royal College of Surgeons (M.R.C.S) of the United Kingdom and a Diplomate of the National Board, New Delhi ( D.N.B) in General Surgery.
Know Your Doctor
Dr. Parag Telang is also a Life member of the most prestigious ISAPS (International Society of Aesthetic Plastic Surgery) and is a life member of the Indian Association of Aesthetic Plastic Surgeons (IAAPS).
Undoubtedly, the best plastic surgeon in Mumbai, he has performed more than 4000 successful cosmetic surgeries including face, body contouring, breast surgeries, and ear reconstruction. He has achieved popularity for being the only surgeon in Mumbai to perform complete Ear Reconstruction Surgery using patient's own rib cartilage and without the use of any artificial implants.
Why Dr. Parag Telang?
If three words were to describe this young Cosmetic Surgeon they would be dynamism, dedication and determination. A graduate from Sir J.J Group of Hospitals, a premier teaching hospital in Mumbai, Dr Telang went on to get good ranks in both the pre-post graduate and the super speciality entrance exams to be selected for his M.S ( Master of Surgery) and M.Ch ( Master of Chirurgie) courses from the well-known Lokmanya Tilak Municipal Medical College and General Hospital ( LTMGH).
Dr. Parag Telang has been a class topper right from his school days till completion of his medical training. He has been a recipient of many prestigious awards including Gray Medal in Anatomy ( 1999), Good Contractor Award for Best Trauma Resident (2005-2006) and Best Super speciality Resident ( 2008-2009). He has also been a recipient of the B Braun Medical Trust Foundation Scholarship for Excellence in Education for the year 2005-2006.
Professional Experience
Dr. Parag Telang stood first in the M.Ch exams conducted in June 2009 by the Maharashtra University of Health Sciences.
Dr. Parag Telang joined as Assistant Professor in Plastic and Reconstructive Surgery at LTMG Hospital, Mumbai in August 2009. He then proceeded to Gent, Belgium in May 2010 where he did a Fellowship in Advanced Facial Aesthetic Surgery and MACS-Lift under the dynamic duo of Drs Patrick Tonnard and Alexis Verpaele Here he worked with Dr Koen Van Landyut and Dr Moustapha Hamdi, both renowned for their work on post-mastectomy breast reconstruction.
He then went on to Paris in September 2010 for a Fellowship in Ear Reconstruction under world-renowned specialist in ear reconstruction, Dr Francoise Firmin. After his training with Dr Firmin, he spent time in Paris visiting Dr Gilbert Aaich, who is a renowned authority in Rhinoplasty and Dr Eric Arnaud, who is an expert in Paediatric Craniofacial Surgery.
After this well-rounded and rigorous training Dr. Parag Telang resumed his work in the Department of Plastic & Reconstructive Surgery at LTMG Hospital, Mumbai, where he now concentrates on Facial Aesthetic surgery and Ear reconstruction.
His areas of special interest include MACS-Lift for facial rejuvenation, minimal access facial aesthetic surgery, body contouring and ear reconstruction. He also dedicates a considerable time in his practice to rhinoplasty and post-mastectomy breast reconstruction. He is one of the pioneers in Mega Fat grafting for breast augmentation in India.
Book Appointment: +91 80955 04033 (Call or WhatsApp)
2. DR. ANJU METHIL MBBS, DDV, MD – Dermatology
Dr. Anju Methil, M.D. D.D.V. Is a qualified dermatologist & cosmetologist with 16 plus years of experience in Cosmetic Dermatology. Dr. Anju completed her post graduation in dermatology from Mumbai following which she undertook special training from the shape clinic & Medspa, Sydney, Australia under Dr. Steven Liew. She is the medical director of the skin and shape clinics in Mumbai, which offers a complete bouquet of cosmetic and dermatological services.
After completing her MBBS and internship Dr. Anju realized her fascination for dermatology during her residency.
With an increasing number of options available, all of which claim to have found a panacea for aging, it's important to separate the chaff from the wheat. Good products with proven scientific studies are sometimes swamped by the media blitzkrieg of unproven products. Correct analysis, correct diagnosis and correct treatment are simple principles which she practices.
Why Dr Anju Methil ?
She is top member of The Indian association of Dermatologists, Venereologists & Leprologists, The Cosmetic Society of India, Association of Medical Consultants, Mumbai & the Indian Medical association.
Dr. Anju has a special interest in facial aesthetics and firmly believes that it is a combination of an eye for detail and correct choice of procedure which has allowed her to help and delight a lot of her patients. Dr. Anju has also attended the master's course in facial aesthetics held in Cebu, the Philippines in the year 2012 and AMWC, Monacco in 2014 apart from this, she keeps herself updated with the latest innovations in the field of Dermatology from around the world. Her sound bytes regularly appear in the print media.
She is also a trainer for botox and fillers and conducts frequent workshops for training the doctors.
The Cosmetic Society of India, Association Of Medical Consultants, Mumbai & The Indian Medical Association.
Awards and Recognitions:
Best Paper For Leprosy – 2005
Book Appointment: +91 80955 04033 (Call or WhatsApp)
3. DR. DEBRAJ SHOME MBBS, DO, DNB, FRCS (Glasgow), FICO (USA), MNAMS, MBA
Dr. Debraj Shome has trained at some of the top centers of the world in various areas of Facial Plastic Surgery & Facial Cosmetic Surgery: Super-Specialty Fellowship trained in Ophthalmic & Facial Plastic Surgery, Orbital surgery & Ocular Oncology from LVPEI, Hyderabad (2005)
Super-Specialty Trained in Cosmetic Facial Plastic Surgery from Salt Lake City, UT, USA (2006)
Super-Specialty Fellowship trained from Department of Head & Neck Surgery from M D Anderson Cancer Center, Houston, TX, USA (2007)
Super-Specialty AOCMF Fellowship trained in Cranio-Maxillo-Facial Surgery from Morriston Hospital, Wales, UK (2015)
Dr. Shome also acquired a MBA (Healthcare Management) from Vanderbilt University (USA) & National University of Singapore in 2008.
Dr. Debraj Shome is the Co-Founder and Director of The Esthetic Clinics, a chain of top class dermatology, plastic surgery & cosmetic surgery centers located at Mumbai, Hyderabad, Kolkata & New Delhi in India. He is presently attached to many multi-specialty hospitals including Breach Candy Hospital (Breach Candy, Mumbai, India), Saifee Hospital (Girgaon, Mumbai, India), Apollo Spectra Hospital (Chembur, Mumbai, India), S L Raheja Fortis Hospital (Mahim, Mumbai, India) & Parkview Specialty Hospital, Kolkata, India. He is the head of the Facial Plastic Surgery center at Apollo Spectra Hospital, Chembur, Mumbai, India. This is one of the topmost centers catering to ultra-superspecialty surgery in India. He was the co-founder of The Esthetic Clinics at Apollo Health City, Hyderabad, and had been the Head of the Department of Facial Plastic & Cosmetic Surgery there from 2009-2011.
Dr. Debraj Shome's special interests include Cosmetic Facial Plastic Surgery, Oculoplastic Surgery, Non-surgical Facial Rejuvenation, Face Lifts, Mid-Face lifts, Facial Reconstructive Surgery post Facial fractures & cancers, Rhytidectomy (wrinkle removal), Blepharoplasty (eyelid lifts), Eyelash enhancement, Rhinoplasty (Nose job), Auricular (ear) Repositioning (Otoplasty), Hair Transplants and Hair Restoration Surgery, Facial & Orbital Fracture Repairs, Neck Lifts, Jaw Contouring, Reconstructive Surgery for Facial & Eyelid Cancers, Facial implants (Chin & Cheek implants) for re-shaping the face or changing the facial contour in order to look more young and beautiful, Lip Augmentation & enhancement, Facial Flaps & Grafts for Facial Cancers, Orbicularis Oculi Myectomy for intractable Hemifacial spasm & Blepharospasm, Eyelid Surgery viz. Ectropion, Entropion, Ptosis surgery, False eye (Artificial Prosthetic Eye) fitting & Socket Surgery (Evisceration, Exenteration, Enucleation), Ocular Anterior Segment Trauma and Reconstruction (surgery post injury to the eye), Orbital Tumor Surgery & Orbitotomy (Medial, Lateral, Anterior & Complex), Orbital Decompression Surgery, Lacrimal Surgery for watering of eyes & tear duct blockage surgery (Dacrocystorhinostomy, Endoscopic Lacrimal Surgery, Dacrocystectomy, CDCR, Nasal Intubation, Probing & Syringing) and Ocular Oncology (eye cancer therapy like treatment for malignant melanoma, retinoblastoma, skin cancers, orbital lymphoma, basal cell carcinoma, etc.)
Book Appointment: +91 80955 04033 (Call or WhatsApp)
What is the cost of Cosmetic Surgery in Mumbai?
Cosmetic surgery cost depends on type of surgery. Contact us with required surgery and we will provide all required details including cost.
How to Book appointment with leading Cosmetic Surgeons in Mumbai?
You can book appointment by call or WhatsApp: +91 8095504033
What are most common cosmetic procedures done in Mumbai?
Common cosmetic procedures are, Liposuction, Tummy Tuck, Rhinoplasyy, Gynecomastia, Hymenoplasty, Vaginoplasty, etc.
Is it safe to undergo plastic surgery in Mumbai?
Yes. Choose Best Cosmetic Surgeon Based on Rating and Reviews in Medcontour portal